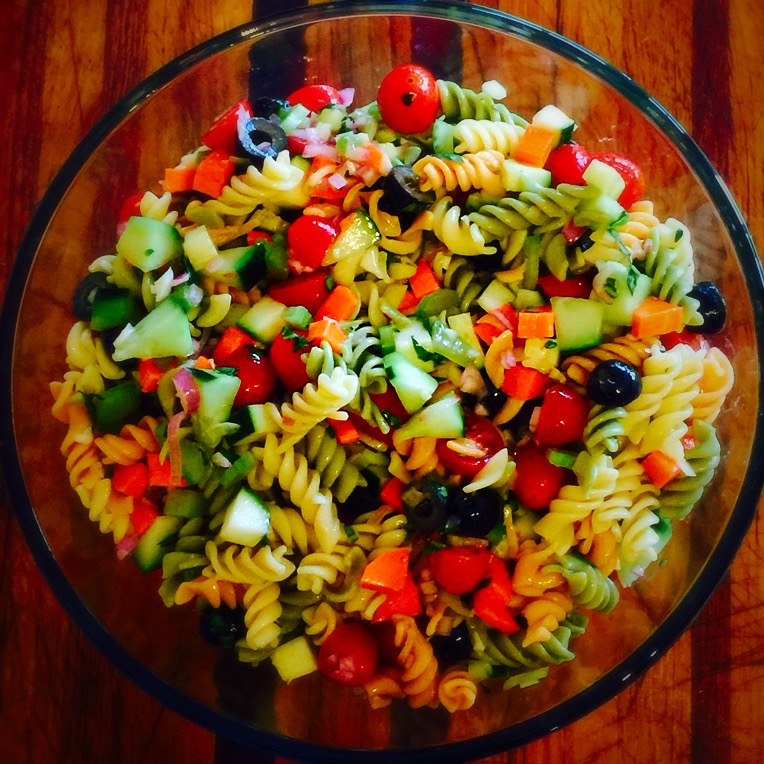 This salad is great for picnics, pool parties, warm weather outings and using up leftover veggies in your fridge.  It will keep, if left out for a time because there is nothing in it that will spoil easily.
1 pound rotini pasta
1 medium carrot finely chopped
1/4 of a large zucchini, finely chopped
2 stalk celery, finely chopped
1/2 of a large cucumber, finely chopped
1 pint cherry tomatoes, cut in half
1 can black olives, cut in half
1 large shallot or 1/2 large red onion, finely chopped
Dressing:
1/2 cup white wine vinegar
1/3 cup EVOO
1 Tbsp. Dijon mustard
1 clove garlic, finely mined
1/4 cup finely chopped herbs, i.e., thyme, oregano, parsely, basil, chives
Whisk the vinegar and EVOO together and add in the remaining ingredients.  Mix well and pour over the pasta.
Stir well before serving.
This pasta salad will not disappoint.