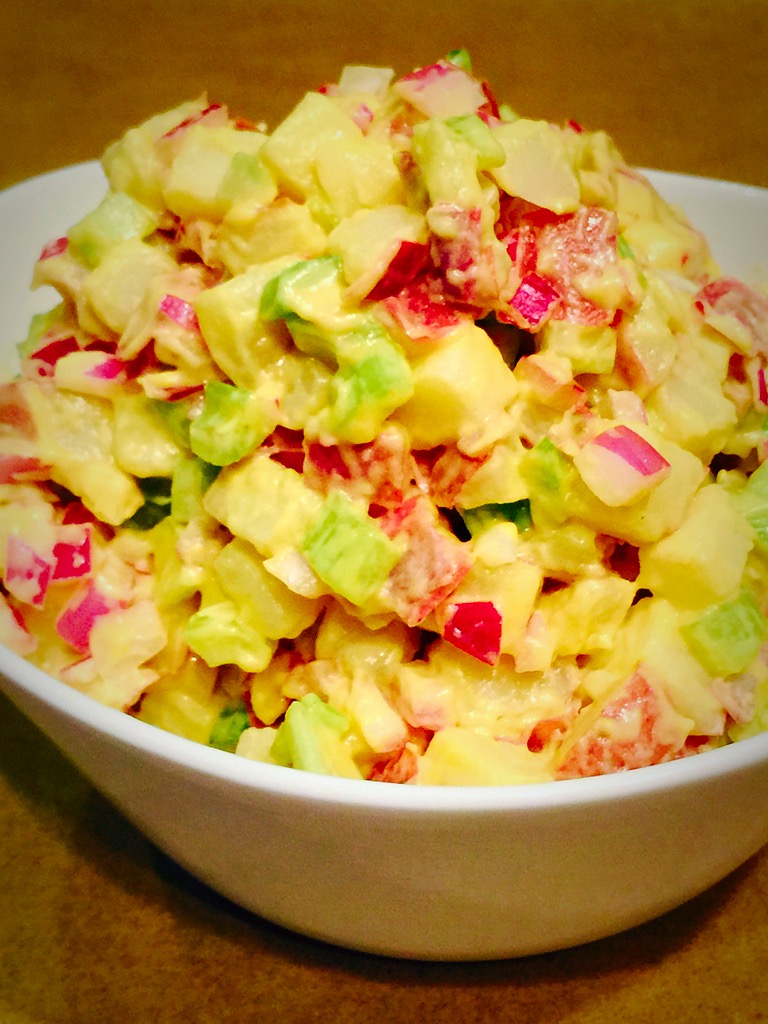 Summer hasn't even officially started and I'm already on a potato salad kick! I can't help myself! I'm a gluten for all things potatoes! And like I said before, I got started in the kitchen today and couldn't stop! While I still had a little of the "Radish Green Pesto Potato Salad" left I knew we were eating that tonight for dinner and we needed something for tomorrow since we are going to be out and about! Tomorrow we are starting our day going to a Farmers Market on John's Island. We are going to follow that up with going to the Firefly whisky distillery and there is also a winery on the grounds. Since we are on a budget and don't know what kind of food/restaurants are available in the area, I'm planning on packing a picnic lunch. I'm taking the Garbanzo bean salad that I just posted and I'm making that salad and turning them into sandwiches. I also made the following, more standard, original, potato salad.
Potato Salad
1 1/2 pounds red potatoes, washed, diced into bite sized pieces
4 stalks celery, finely diced
1/2 large red onion, finely diced
1/3 cup egg-less mayo such as Veganeise or Just Mayo or whatever your store bought or home made mayo is
1/8 cup yellow mustard
Black freshly-ground black pepper
*Black Crystal Kala Namak Salt, a few good pinches to taste (this replaces the egg flavor from the eggs that are in most original potato salads)
Place the cooked potatoes into a medium bowl along with the celery, onion, a scoop of the mayo and a few squeezes of the yellow mustard. Add some of the Kala Namak Salt and stir until well combined.  Taste and adjust seasonings!
*Black Crystal Kala Namak Salt – I ordered this salt online from Amazon because I couldn't find it in any of the grocery stores that we have here and we have some pretty good, high end grocery stores here.  Anyhow, I never knew how much I missed eggs until I tasted this salt!  It is so friggin good.  Let me tell you that when I was making the potato salad and I opened this bag of salt up, Jim stopped playing his video game and came over and stood over me thinking I was frying some eggs.  Sorry babe…it was jus the black salt!  Black salt has a very strong sulfur flavor which whe yo think about it, that is what eggs have!  A sulfur flavor!
This salt has actually turned into one of my favorite salts/seasonings of all time!