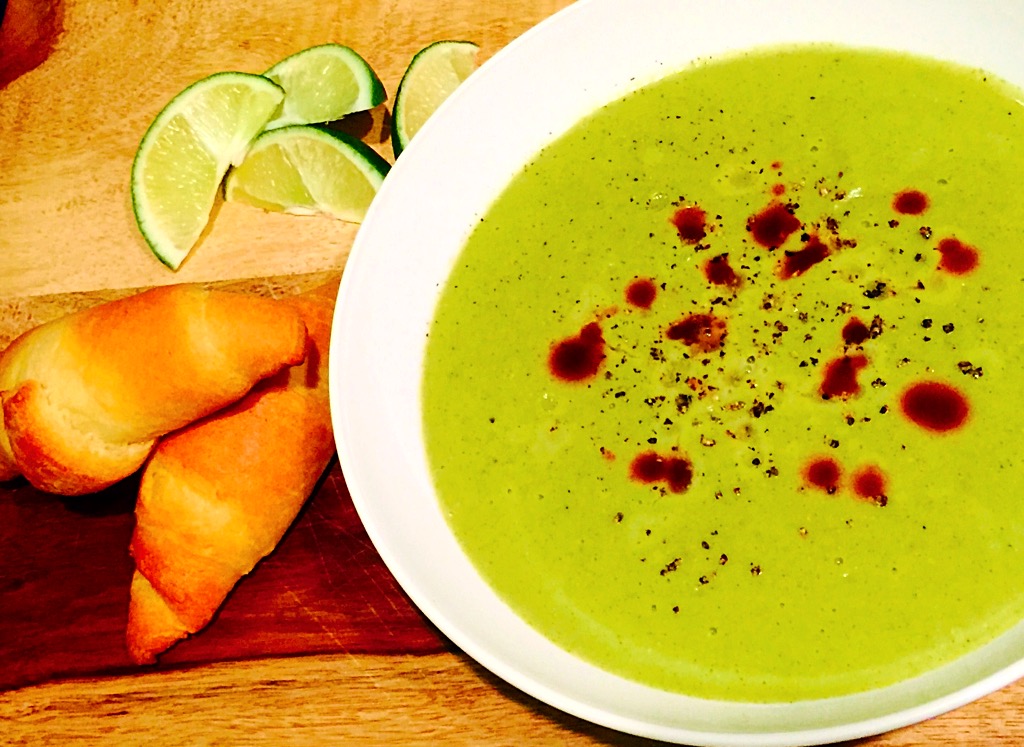 Tonight's dinner was a toss up between "fish" tacos and using the broccoli in the fridge up.  Since both of us were just hungry and didn't care what we ate and the "fish" for the tacos was frozen and the broccoli was not, it was a no brainier.  Use the fresh ingredients first!  So with that, this recipe was born!  It was so darn, stinking, out of this world good I was in heaven!  I think Jim had 3 or 4 servings!  I can't wait to figure out and add the nutritional stats for this recipe to see just how much each serving was serving our bodies as well as our taste buds!  Cheers to BROCCOLI!  You rocked it tonight!       
Easy Creamy Cheesy Broccoli Soup
1 bunch broccoli, about 6-7 cups, roughly chopped
1 large yellow onion, roughly chopped
2-4 cloves garlic, roughly chopped
5 cups vegetable broth
2 large russet potatoes, peeled, diced and pre-cooked
1/2 cup raw cashews
1/4 cup nutritional yeast
salt, black pepper
lemon or lime slices
Chipotle Tabasco sauce
Place the broccoli, onion, garlic, and vegetable broth in a large pot. Bring the broth to a boil and reduce heat. Simmer until broccoli is tender, about 10-12 minutes.
If using a large blender, put the broccoli mixture, potatoes, cashews and nutritional yeast in a blender. Blend at high speed until smooth. If you have a smaller blender put half of the broccoli mixture, half the potatoes and half the cashews and half of the nutritional yeast in the blender and blend at high speed. Pour into a pan and repeat with the remaining mixture. and heat through.   Salt and pepper to taste.
To take this to the next level, serve with slices of lemon or lime, additional black pepper and the Chipotle Tabasco sauce.  It will add a lot of spunk to your already fabulous dinner!