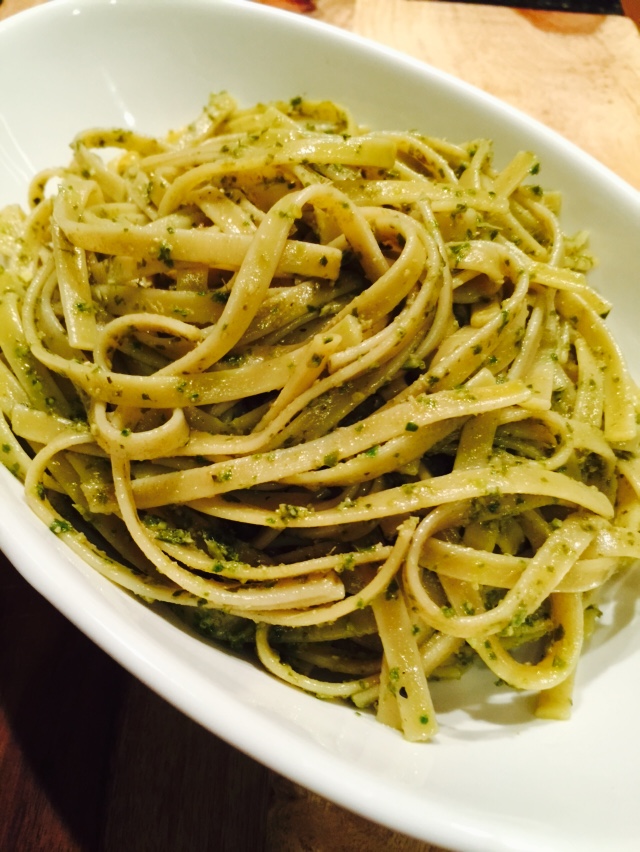 I have been AWOL from the blog for a bit.  We had company and kept ourselves busy entertaining Jim's parents while they were here.  We are kind of getting back to our normal routine.  So with that being said, tonight I wasn't in the mood to cook anything for dinner and Jim and I weren't all that hungry, yet here I am blogging about it because it was just that good!  I threw this together in the amount of time it took to cook the pasta.  It was really, really good and we now have a lot of leftovers for lunch tomorrow!   Clean up was extremely fast and easy as well. You can serve this dish either hot or cold.
Pesto usually has parmesan cheese in it so to make this a vegan pesto and to add an extra boost of Vitamin B12 without the cholesterol, I used nutritional yeast instead of parmesan cheese.  Boom…an added extra boost of goodness for your body without the cholesterol and it delivered the same cheesy flavor!
Basil Pesto
4 cups basil
1/4 cup toasted pine nuts
2 cloves garlic (use only 1 if you don't want an overly garlicky flavor. We love garlic so we like the extra kick that 2 cloves give this dish)
1/4 cup EVOO ( you may need 1 – 2 Tbsp more to your liking)
1/4 cup nutritional yeast
S&P to taste
1 package/box of your choice of the following noodles: You can use spaghetti, fettuccini, angel hair, any long thin noodle works well for this recipe.
While you get the water boiling for the noodles, start preparing the pesto.  Start toasting the pine nuts and wash and rinse the basil using a salad spinner and place in a food processor, along with the pine nuts, garlic, lemon juice and nutritional yeast.  Blend for 30 seconds to a minute.  Scrape down the sides of the food processor and replace the lid.  Start the food processor again and slowly add the EVOO through the lid on the top.  Add the salt and pepper to taste and adjust any other seasonings as needed.  You may need to add an extra 1  to 2 tablespoons of EVOO at this point to get the pesto to the desired consistency.
You could also use this recipe as a base for pizza, lasagna, as a spread for sandwiches, hot or cold and toasted….the ideas are endless!
I hope you make this and enjoy it as much as we did!