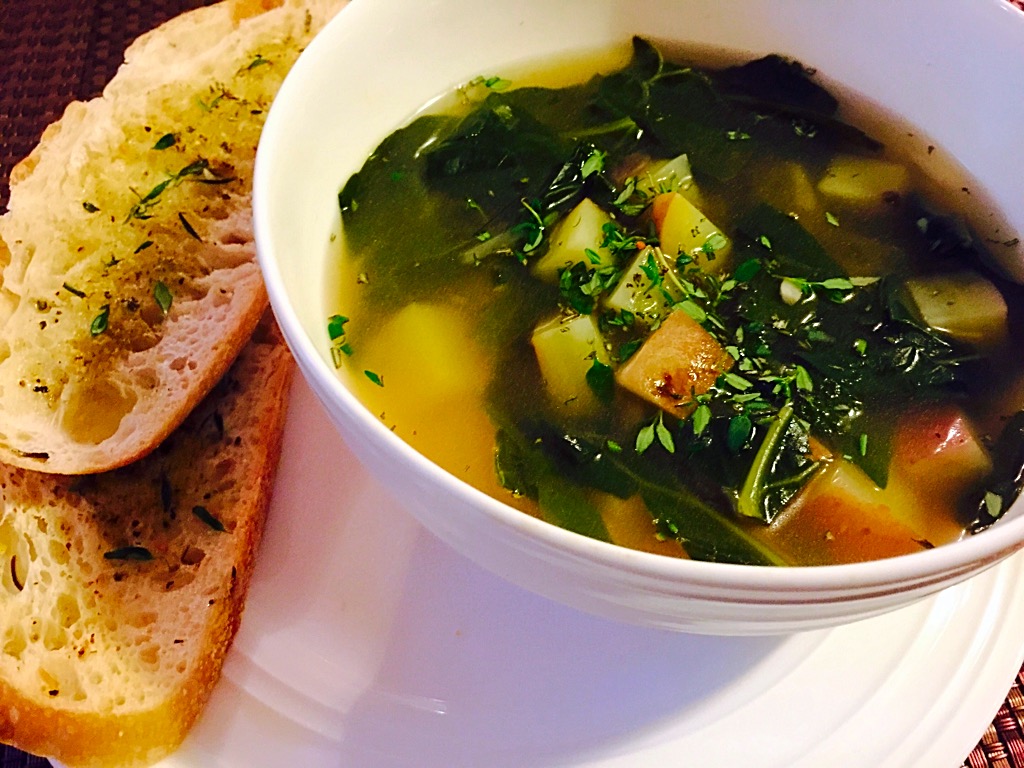 ***Update on this recipe:  We ended up having so much of this soup leftover that after two days of eating it, I was ready for something else.  Either the soup needed to go (NOOOOOO) or it was time to transform it!  So, it went from the container it was in, into the Vitamix!  HELLO HEAVEN!  This lefftover soup was redfined on all sorts of levels!  It went from brothy with potato chunks and needing bread to soak up the broth to thick and silky and divine, no bread needed (if that's how you choose to roll), in a matter of a 1-2 minutes!  It was an unreal soup transformation!  My future is brighter and greener with this soup in it's future!  Sorry there are no pictures to show off my silky, velvety glorious (legs)…I mean soup!***
Yesterday was supposed to be a dark and gloomy day with Tropical Storm Ana coming through.  It ended up being an amazingly beautiful day and we ended up doing a bunch of unplanned yard work.   We harvested a couple of heads of broccoli from our garden along with some more lettuce, kale and swiss chard and the first batch of ONIONS!  We now have the onions hanging in the garage drying out.  I can't wait to use them.  They are small but I'm sure they will have a mighty punch of flavor!
While we were cleaning out the garden, one thing we noticed was that the broccoli leaves were HUGE and SO VERY DARK GREEN!  As we all know, the darker the leafy greens the better they are for you!  I knew I had to find a way to eat them so I did a quick Google search and sure enough….they are edible!  SCORE!  So I made a quick look online for some inspiration and came up with this recipe that fit our needs and used what we had on hand.  Dinner was born and WOW…it was FABULOUS!  Jim had leftovers for lunch today and again when he came home from work as a snack and both times he raved about how good it was!  Hmmm…I now wonder if there are any leftovers for me for lunch tomorrow?  Oh well, if not, I know where I can get more leafy greens to make another batch!  It was really so easy to make!
While figuring out the nutritional information I realized that this is a GREAT meal for added fiber 12.2 grams, (if anyone knows me, they know that I am super obsessed with fiber) and it's also packed full of PROTEIN, 15.4 g per serving!  DARK COLORED BROCCOLI GREENS ARE MY NEW FAVORITE ROCK STAR FOOD!
Spicy, Garlicky, Greens and Potato Soup
8-10 cups of leafy greens cut or ripped into about 1/2 – 3/4 inch pieces (any kind will do, we used broccoli but you could use swiss chard, kale, radish greens could be added in for a different taste profile but I wouldn't do all radish leaves.  A mixture of multiple greens would be really good too)
1 head Garlic, minced (yes…one whole head)
1 medium onion, diced (we only had red on hand but yellow would work just as well)
8 cups vegetable broth
4 potatoes cut into bite size pieces (we had red on hand, but any kind of potato would work fine) and place in a bowl of water until ready to use.  Drain before adding to the soup.z
Sriracha
Lemon Juice or Rice Wine Vinegar
S&P to taste
If you have any on hand, sprinkle with fresh Thyme and Rosemary
Use either a tsp. of EVOO or water or a little bit of vegetable broth and saute' garlic for a minute.  Add onion and saute' until onion is translucent.  Add in the leafy greens and saute' just a couple of minutes while stirring often.  Add vegetable broth and potatoes.  Bring to a boil and cook for about 15-20 minutes, until the potatoes are tender.
Taste and adjust seasoning with S&P.  Add just a splash of Sriracha and lemon juice or vinegar to taste at the very end of cooking.
Calories 218, Fat 0.5 g, Cholesterol 0, Sodium 597.8 mg, potassium 704.8 mg, Carbs 34 g, Fiber 12.2 g, Sugars 3.5 g, Protein 15.4 g, Vit A 1%, Vit C 551.9%, Calcium 4.1%, Iron 7%.