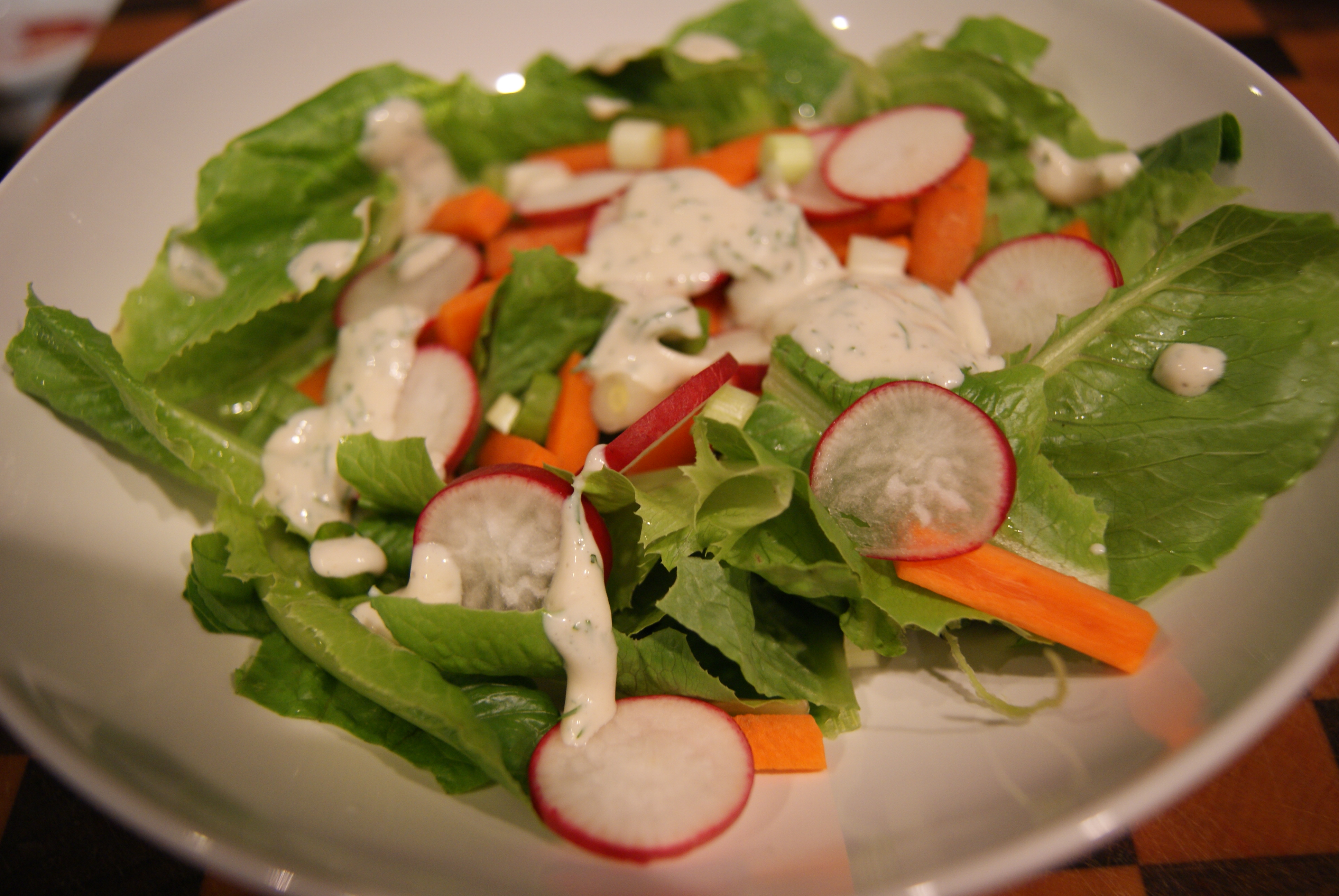 Yesterday I started a Professional Whole Foods Culinary Course through Rouxbe Cooking School.  I'm so darn excited to take a class on how to prepare delicious whole foods and take pictures of my creations.  My first assignment was to make something that we eat a lot of and enjoy so I made this and posted it as my first assignment.  It's a simple salad with a homemade garlicky ranch dressing that is very garlicky, creamy and dilly!  It's hands down one amazing dressing recipe that Jim and I came up with together a few weeks ago.
Creamy Garlicky Dill Dressing
1 box silken Tofu
1/4 Cup water
2 Tbsp Apple Cider Vinegar
2 Tbsp Tahini
1-3 Cloves Garlic (depends on your taste)
2 Tbsp Soy Sauce / Braggs Liquid Amino's
2 tsp Lemon Juice
1/8 Cup Spring Onions (chopped)
1-2 Tsp Salt
1/2 – 1 Cup Compressed Dill (chopped) depends on preference
Place all ingredients in blender except chopped dill.   Blend 1-2 minutes until smooth
Transfer to bowl and mix in dill.
Can be served immediately, or Let sit for 1 to 24 hours in the refrigerator prior to serving.
Serves 12:  Calories 33, Fat (g) 2.2, Cholesterol 0, Sodium 363.8 mg, Potassium 26 mg, Carbs 1.8 g, Protein 2.8 g, Vit A 1.4%, Vit C 2.7%, Calcium 2.6% , Iron 2.6%