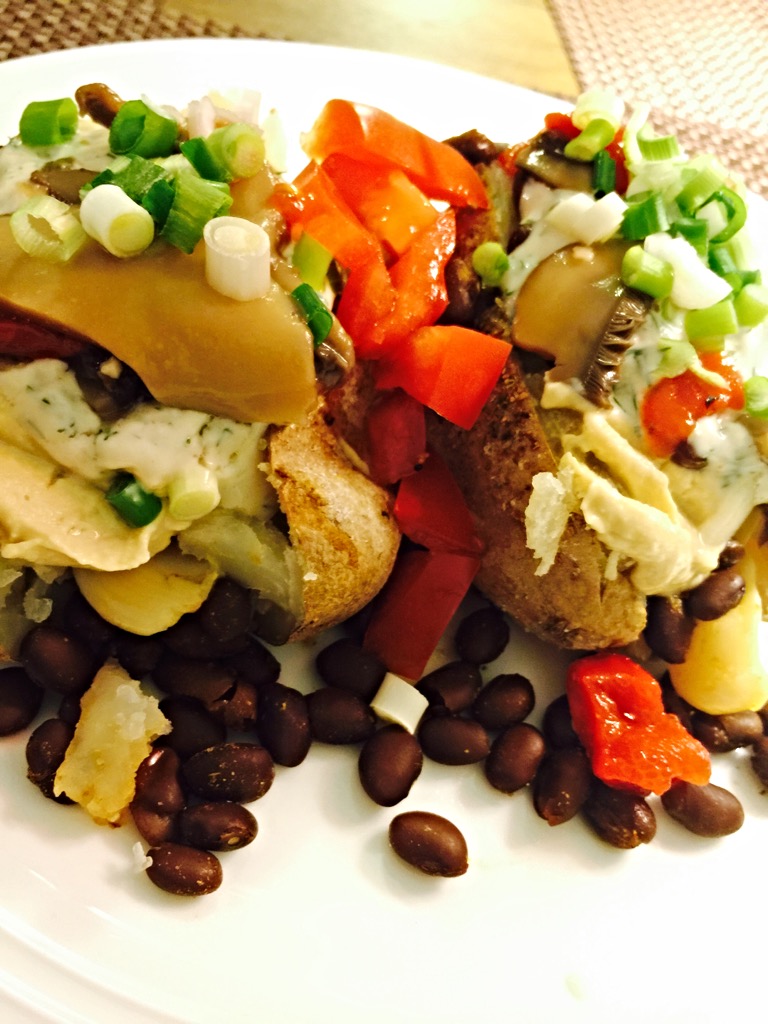 I wasn't in the mood to make dinner tonight and I know for some of you this will sound shocking but it happens to the best of us!  I told Jim he was on his own for dinner expecting him to make some toast, oatmeal or a bowl of cereal for himself or something easy like that, because that was what I was planning on making for myself.  I mentioned that we also had potatoes, thinking he would throw a potato in the microwave and he could take it from there.  What a great suggestion that was!  Before I knew it we had loaded baked potatoes for dinner!  All from leftovers and jarred goodies from the fridge!
The potatoes consisted of the following toppings, made to each individuals mood:
*leftover Garlicky Ranch Dressing
*hummus
*pickled mushrooms and red peppers
*green onions
*salsa
*tomato
*can of Black Beans drained and rinsed then heated up with a little water and a lot of cumin and a dash of paprika!
Jim scrubbed the potatoes and sprinkled them with coarse sea salt before baking them and they were divine!  We have done this in the past with potatoes but have rubbed them with olive oil and and rolled them in coarse sea salt, which I must say is absolutely to die for!  However, we are trying to reduce our consumption of oils overall and while omitting the olive oil the potatoes were still delicious but they didn't get quiet as crisp on the outside.  Regardless, we will be making them sans the oil for the most part from now on because they truly really didn't need it.