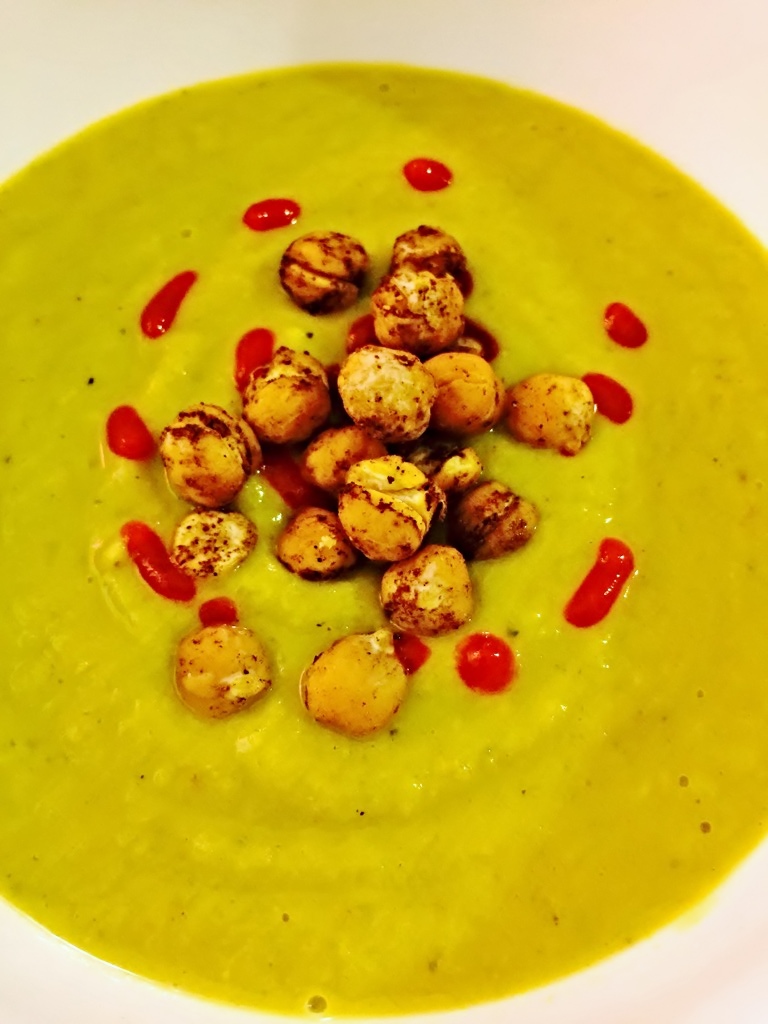 Today we had a VERY LONG day of painting and getting the entire upstairs ready for new carpet tomorrow.  Well, it acutually has been a work in progress but this weekend we really hit it hard and I'm paying for it right now. I am so sore and tired that I can hardly remember my name!  Come 7 o'clock tonight I was starvingand so was Jim!  Thankfully, due to some ideas I had from the other night, I had an idea about what I was going to do and crossed my fingers that it turned out.
With that being said, BE VERY CAREFUL with the Cayenne.  Apparently once it cooks it continues to heat the dish in a "make your nose run" kinda way!  I think I knew that already and lapsed with being so exhausted!  With that being said, I used twice the amount of Cayenne that I listed in this dish so I would start very small and add accordingly!
Broccoli Soup
Serves 6
1 medium onion, cut into chunks
1 – 2 pound bag frozen chopped broccoli
3 tsp. minced garlic (or to taste)
6 cups vegetable broth
1 ½ tsp. Curry Powder
1 – 2 dashes cayenne pepper
½ tsp. Garam Masala
1 tsp. Cumin
1 medium sweet potato cooked, and peeled
½ cup Cashewa
½ tsp. Himalayan salt
Squeeze of Lemon for some extra something special!  (We didn't have any and I really wish we had some!)
Cut the onion and add it with the broccoli, through the cumin and cover and bring to a boil.  Let cook about 5 minutes.
Add the sweet potato and the cashews to a blender.  Add in about half of the broth and as much of the broccoli mixture as you can.  BE CAREFUL WHEN BLENDING!  I usually start the blender off VERY SLOWLY and take the plug out of it.  SLOWLY increase the speed.  Blend on high for a few minutes until the mixture is smooth.  Take the remaining soup and either use an immersion blender to break up and blend the rest of the ingredients or transfer the contents from the blender into another large pot and put the rest of the soup in the blender and repeat.  Add all ingredients to the same pot and reheat and adjust seasonings as needed.
Calories 164, Fat (g) 4.3, Cholesterol (mg) 0, Sodium (mg) 656.3, Carbs (g) 22.1, Fiber (g) 5.1, Protein (g) 5.9, Vit A(%) 95.4, Vit C(%) 87.5, Calcium (%) 5.6, Iron (%) 6.3
After dishing up I added Roasted Chickpeas dusted with Garam Masala as a substitute for breadcrumbs.  I rinsed and drained a can of Garbanzo Beans and put them on a clean kitchen towel and dried them off.  I transfered them to a  mixing bowl and added a few dashes of Garam Masala seasoning.  Place them on cookie sheet on a silpat or parchment paper and roast at 350 degrees for about 25 minutes stirring once half way through cooking.