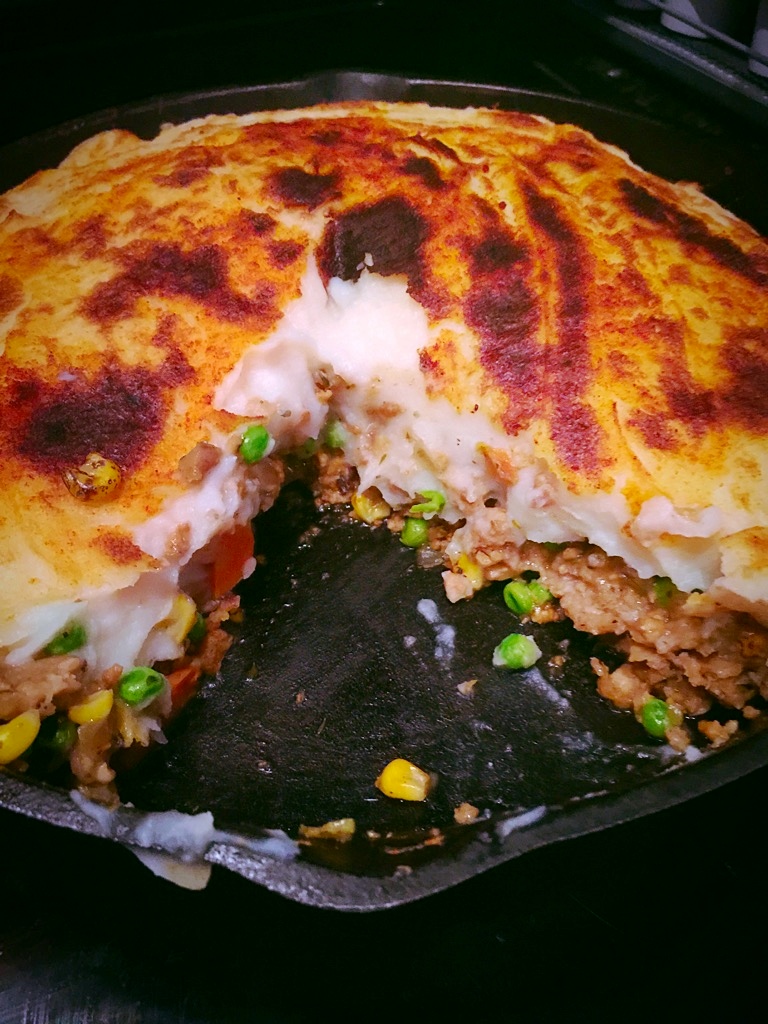 So I made this the other day and while it tasted ok and we ate it all in the matter of a couple of days, Jim and I both realized that we are pretty much over using  plant based meats in substitution of regular meats.  I think our taste buds would much prefer beans and lentils and grains that are seasoned to taste like sausage and what have you, not just for taste but for texture as well.  Have we really finally gotten to this point?  I sure hope so!  It's not only better for us, but a whole lot cheaper as well!  So, with that being said, I still wanted to share this recipe with you.  And as always, adjust the veggies or seasonings to your liking or use whatever you have on hand.  Make it your own and if you have any suggestions or comments when you do, please let me know!
Shepherd's Pie
Serves 8
1 Pkg. Beyond Meat Crumbles
1 Pkg. Light Life Gimme Lean Sausage
2 Medium Carrots, chopped into bite size pieces
1 Onion, Chopped
2 stalks Celery, chopped into bite sized pieces
1 cup frozen corn
1 cup frozen peas
1 cup vegetable broth
2 Tbsp. all purpose flour
2 tsp. Vegan Worcestershire Sauce
2 servings of instant mashed potatoes
Preheat the oven to 350 degrees
In a cast iron skillet, saute the carrots, onions and celery for a few minutes.  Add the meats.  Cook until the sausage is crumbly, you may need to add water to get the consistency you want.  Once all of these ingredients are cooked through and to your desired consistency add the flour to the vegetable broth and stir to make a slurry and add to the pan.  Cook a few minutes more then add the corn and peas and continue cooking until heated though.  Salt and Pepper to taste.
Prepare the instant mashed potatoes (obviously you can use real mashed potatoes if you have them or want to make them but I didn't have any on hand at the time).  Spread the mashed potatoes onto the top of the meat and veggie mixture.
Place the cast iron skillet in the oven and bake about 30 minutes.  If you would like the top a little more brown, turn the broiler on for a few minutes.
Once done pull out of the oven and let rest a few minutes before serving.
Calories 310, Fat (g) 12.1, Cholesterol 0, Sodium (mg) 734.1, Fiber (g) 5.9, Protein (g) 17.4, Calcium (%) 5, Iron (%) 11.8