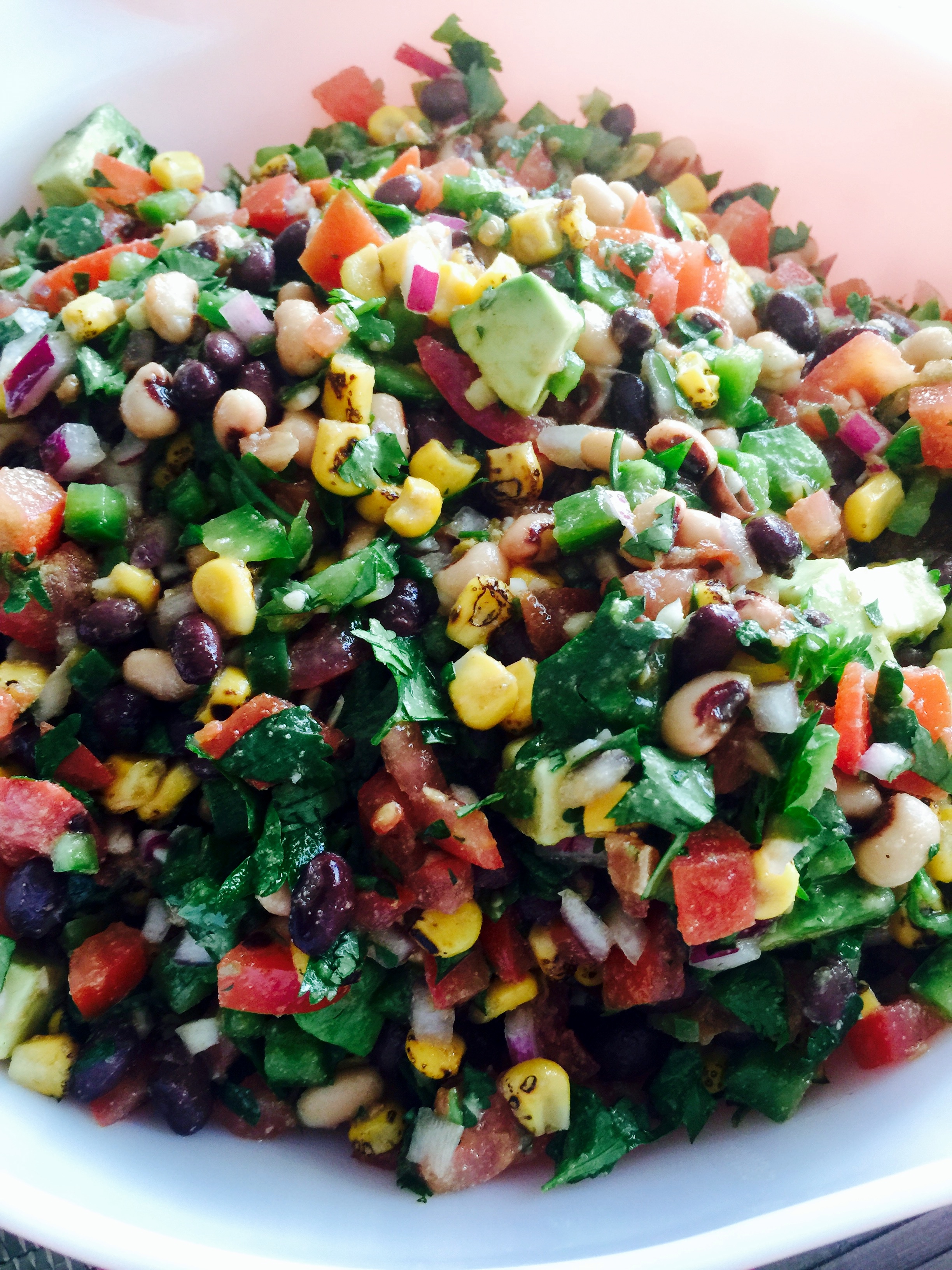 So this comes a week late but I guess it's better late than never.  I made this last week for Super Bowl Sunday along with some other goodies that unfortunately I didn't take any pictures of because, well, it was eaten as quickly as I could pull it out of the oven.  I am referring to the cauliflower wings that I made.  I made them again a couple nights later for a gathering we went to and again, forgot to take pictures.  But let me tell you, I will be making the cauliflower wings again and there will be pictures.  With that being said I'll reserve the ranch dressing that I made to go with it until then as well, but for now, I will leave you with my Cowboy Caviar recipe.  We ate off of this for most of the week and we even gave half of the leftovers to our company when they left after the Super Bowl.  With that being said, this makes a HUGE batch of salsa so make sure to tell people to bring containers to take some home with them.
Oh, on a side note, I would totally use this as a topping on a large green salad, a taco salad, tacos, and even as a toppong on a baked potato, hashbrowns, a breakfast scramble, whatever your heart desires!  The uses of this are practically endless!
Cowboy Caviar
Serves 16
Calories 139, Fat (g) 5.1, Cholesterol (mg) 0, Sodium (mg) 93.4, Carbs (g) 22.9, Fiber (g) 3.9, Protein (g) 4, Calcium (%) 2.1, Iron (%) 11.2
2 cups frozen corn
1 can Black Beans, rinsed and drained
1 can Black Eyed Peas, rinsed and drained
6 large Roma tomatoes (approximately 3 1/2 cups)
1 cup red onion, finely diced
1/2 cup Italian Parsely (optional)
1 green Bell Pepper, diced
2 Jalapeno Peppers, ribs and seeds removed, finely diced
1 cup Cilantro, chopped
1/4 cup EVOO
1/4 cup Red Wine Vinegar
2 cloves Garlic, minced
3 Tbsp. Cumin
Juice of 2 limes
1 Avocado (optional)
Place all ingredients from corn through cilantro into a large mixing bowl and mix until combined.  In a seperate small bowl mix the dressing ingredients, (EVOO-Lime) and mix well.  Pour dressing mixture over the bean and tomato mixture and stir well.  Adjust seasonings as needed to suit your taste.  Right before serving add the avocado if using.
If serving to a small group of people I would pull out 1/4 to 1/2 of the salsa and add the avocado to it and set the remaining salsa aside.   The salsa will last a few days but if the avocado is in it, it will turn brown and start to look funky by the following day.  You can also skip using the avocado all together if you desire.