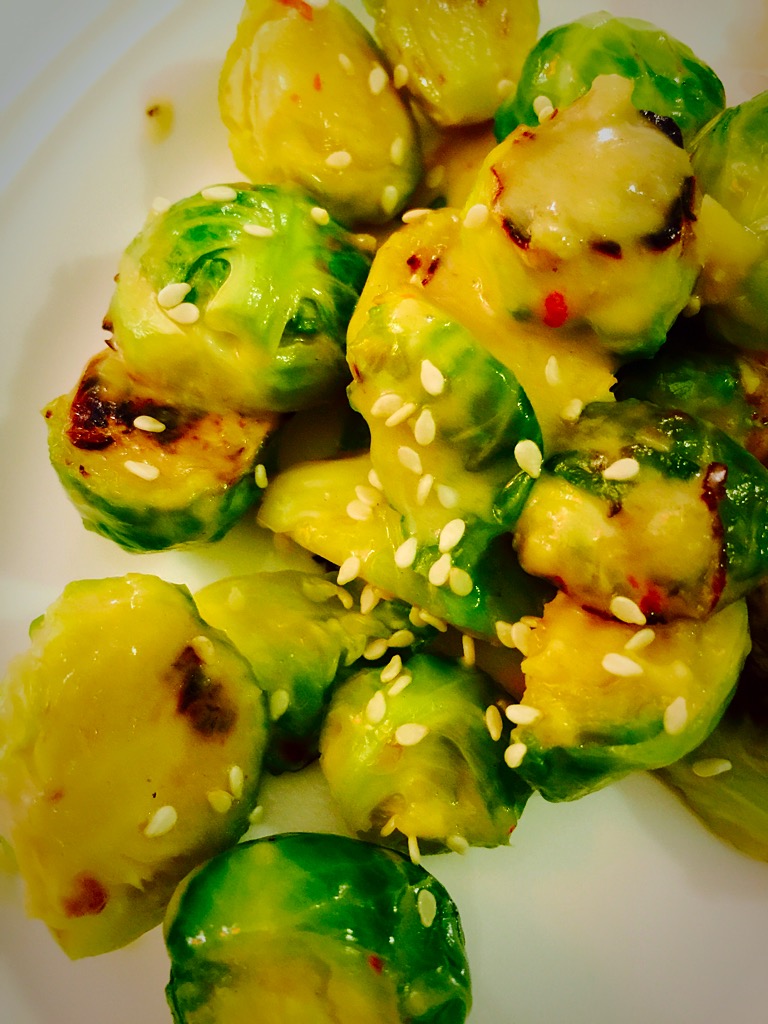 I came across a recipe for Brussels Sprouts that called for canned coconut milk and knew I had to make it.  The only thing was, I also knew my taste buds were craving mustard because, well, my favorite recipe for Brussels Sprouts has a mustard glaze sauce on them but I had leftover coconut milk in the fridge that I needed to use up.   The next thing I knew this was sitting on my plate and my taste buds were thanking me profusely for making them very, very happy!  I am so happy that I have grown up to LOVE these little nuggets of green gold because honestly, as a kid, I could not stand Brussels Sprouts but now I absolutely adore these little gems!
Roasted Brussels Sprouts with Coconut, Mustard and Ginger Sauce
Serves 2
¾ pound of Brussels Sprouts trimmed with any outer leaves discarded as needed
½ cup coconut milk
2 tsp. fresh grated ginger
1 tsp. agave nectar
2 tsp. soy sauce or Bragg's Liquid Aminos
2 tsp. sweet chili sauce
2 tsp. Dijon mustard
1 tsp. rice vinegar
1 Tbsp. oil, EVOO or coconut oil
Sesame Seeds (optional)
In a small sauce pan add the coconut milk, ginger, agave, soy sauce, chili sauce, mustard and vinegar.  Whisk together and heat until just combined.
In a cast iron skillet, add the oil and the Brussels Sprouts and over medium high heat cook the Brussels Sprouts cut side down until just browned.  In the meantime, turn the broiler in the oven on.  Once the Brussels Sprouts are golden brown on the bottom, add the pan to the oven and continue to broil until the tops are golden brown.  This should take just a few minutes.
Once the Brussels Sprouts are finished cooking pull them out of the oven and add the sauce to the pan and serve! Sprinkle with sesame seeds if desired.
Enjoy!
Calories 145, Fat (g) 10.1, Cholesterol 0, Sodium (g) 380, Carbs (g) 11.8, Fiber (g) 2.2, Protein (g) 1.3, Calcium (%) 1.5, Iron (%) 2.9