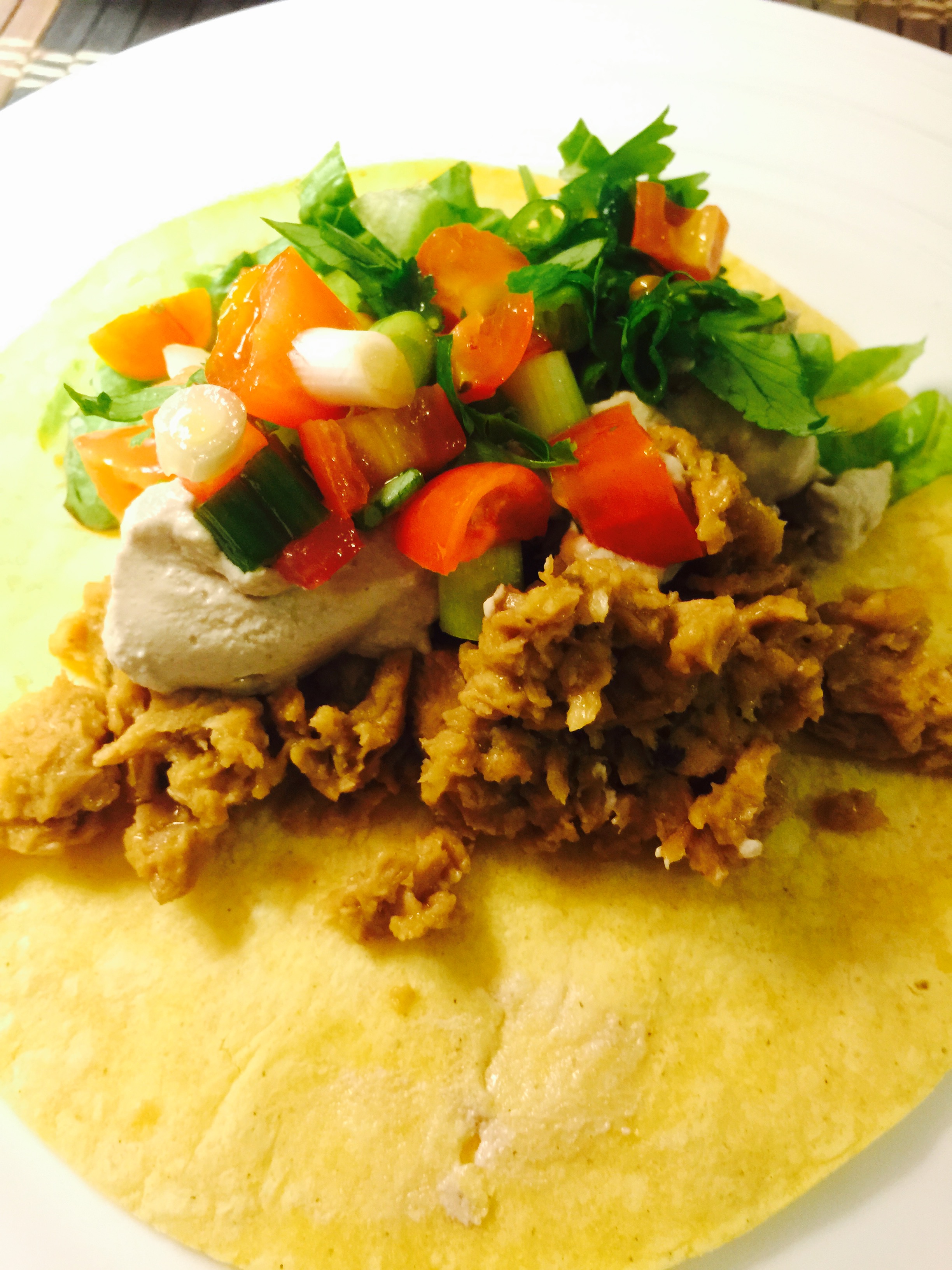 Today we worked all day on the upstairs, cleaning things up and adding a new wall to make a "hallway".  Fun stuff!  This evening while Jim was working upstairs on things that I couldn't help with, I was busy paying bills.  We are trying to stick to our food budget and after taking a closer look at our budget today I realized we are over on our food budget!  Opps!  To top it off we still have some gatherings/get togethers we are supposed to go to before the end of the month!  I so wanted to go out to grab a bite to eat but instead I made a quick inventory of what we had at the house and I found some Carnitas made by "Helen's Kitchen" in the freezer, corn tortillas, some walnut dressing I had made the other day and a few sweet potatoes.  I had also bought some more salsa the other day but when I pulled it out, guess what?  It was GONE!  Apparently Jim was hungry at some point and ate all but 1 Tablespoon of the salsa.  (Why oh why?  Why not just eat it all? 🙂  …)    So once again, I was was at the mercy of what we had in the fridge and was glad I had still had some grape tomato's, cilantro, green onions and limes to throw a quick salsa together for dinner tonight.
The walnut dressing was made from walnuts, garlic, soy sauce and water.  I'll have to make it again and let ya'll know what the exact ingredients were but hot diggity…it was some darn good stuff!  I'll post the recipe later when I make it again.
This was kind of an unconventional dinner but we worked with what we had.
Carnita's/Taco's:
Helen's Kitchen Carnitas
Walnut Sauce/Dressing
Salsa
White Corn Tortilla's
Lettuce
Sweet Potato:
Sweet Potato (cleaned, pierced a few times and cooked at 400 degrees for about 40 minutes turning over half way through).
Walnut Sauce/Dressing
Salsa
I have to say for an unconventional dinner it was still really good and even though we used the exact same toppings on both the carnitas/tacos and the sweet potatoes, they tasted totally different!  Loved it!
Entire Meal:
Total Fat 12 g, Cholesteol 0 g, Fiber 8 g, Protein 13 g, Calcium 15%