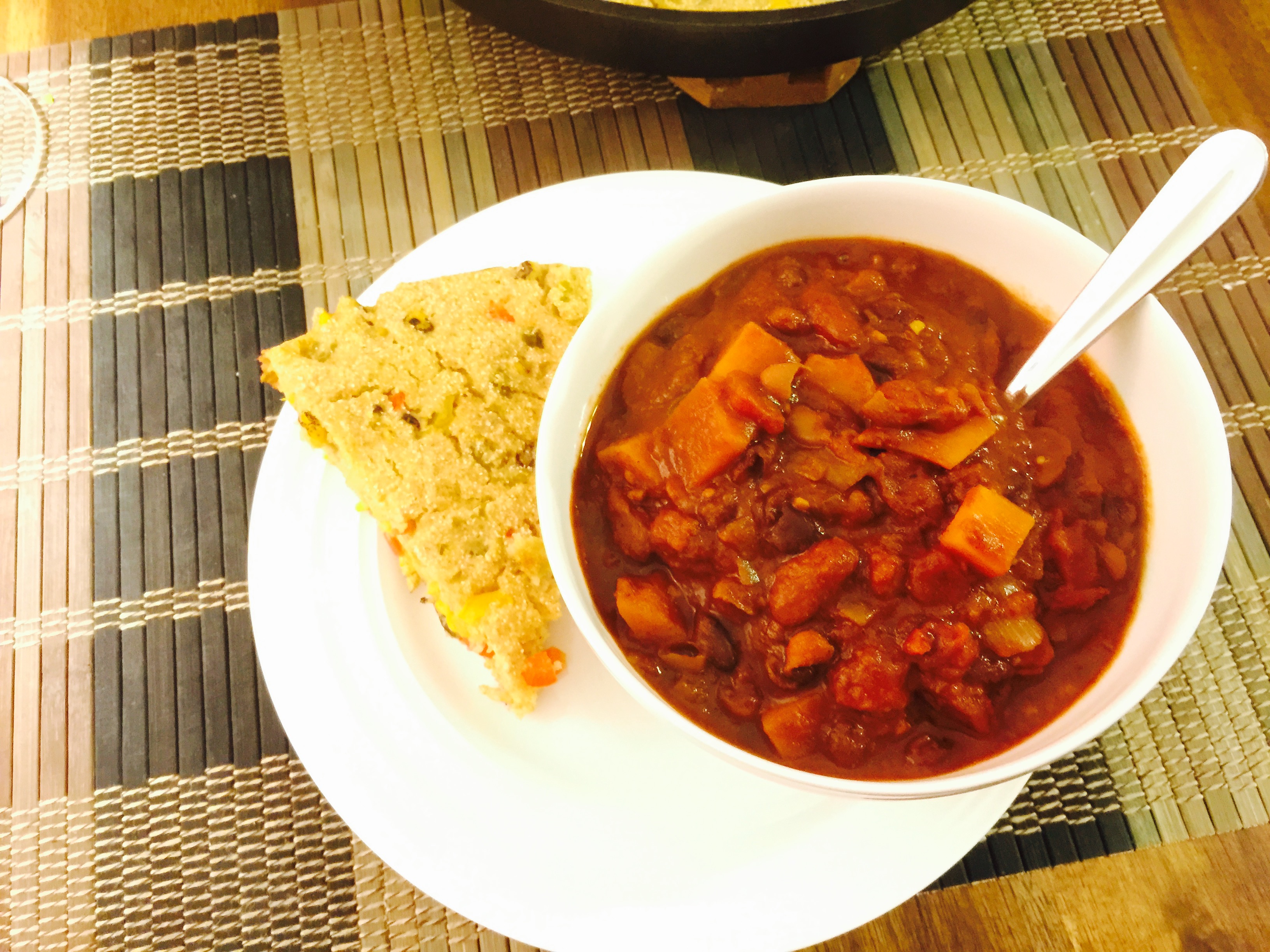 Last night was all about football here!  The Seahawks and the 12th Man are going to the Superbowl AGAIN!  Whoot whoot!  So what do you do when it's all about football?  MAKE SOME CHILI!  Years ago when I was on Weight Watchers I used to make a turkey chili with butternut squash.  It was one of my favorite chili recipes ever.  Now days, I've eliminated the turkey, added a few extra beans, some chocolate and a strong beer and wha-la!  An amazing chili that everyone can eat! Enjoy!
Butternut Squash Chili
Serves 6
1 medium onion, chopped
2 cans diced tomatoes
1 1/2 heaping tablespoons of chopped garlic
1 can black beans, rinsed and drained
1 can pinto beans, rinsed and drained
1 can kidney beans, rinsed and drained
1 bottle dark porter or chocolate beer or whatever it is you choose.  You can also omit the beer and substitute vegetable broth.
1 jalapeno pepper ( optional)
1 can tomato paste
3 Tbsp Chili Powder
1 ½  Tbsp Cocoa Powder
1 ½ tsp paprika
2 ½ Tbsp Cumin
3 cups Butternut Squash
Saute Onion for 10 -15 minutes.  Add a little water if the onion begins to stick or burn.  Add the garlic and cook another 3-5 minutes.  Add the remainder of the ingredients except the butternut squash and cook on medium heat.
This would be the time to cook any corn bread or just let the chili sit and let the flavors meld.  You are looking for a fairly thick chili at this point.  This is also a good time to taste and adjust your seasonings to your liking.
When you are about 15 – 20 minutes from eating time and about the same time you put the cornbread into the oven, you should turn the chili onto high heat, add the butternut squash, cover the pot and let it simmer while stirring frequently.  You may also need to add 1/2 to 1 cup of water at this point.  When we got to this point we added more water to help the butternut squash cook because while the chili was perfect, the squash needed a little more TLC and extra H2O to make it what we wanted it to be!
(Calories 285, Fat 2.6 g, Carbs 51.1 g, Protein 14.1 g, Sodium 789.8 mg, Cholesterol 0 g, Fiber 16.2 g, Calcium 17.9%, Iron 35.4%)
Oh, the pic shows corn bread and I would love to share that recipe with everyone right now but just because it looks like it was amazing…it was NOT!  We will be working hard to perfect the perfect corn bread!